I had insomnia the night before last, but not the "oh well I'm awake I might as well get up and write or do something similarly constructive". Oh no, I don't get that sort of insomnia. I get the "lie there tossing and turning trying to work out if you're really awake but not actually being awake enough to get out of the bed" insomnia. So yesterday was a bit of a blur.
Last night however I turned off the light at 10pm and blissfully slept through until the alarm went off. Didn't even notice the children coming in. So today I feel somewhat human again and less like a badly reanimated zombie with a need for crisps and coke.
------
Today Grace Draven (

grace_draven
) has
an interview with me
on her livejournal. Grace is hoping to do a lot more interviews with a variety of authors and I am her guinea pig which is very exciting. Her questions were great. As usual I only hope my answers make sense.
------
And... another Romance Divas workshop coming up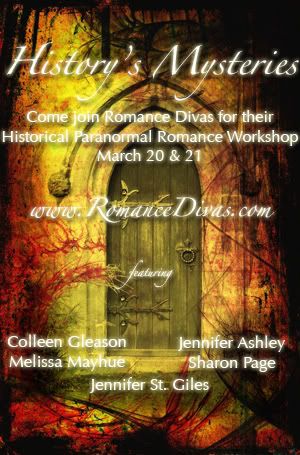 Writing Historical Paranormal Romance with Some of The Hottest Authors in the Genre
March 20th & 21st at
Romance Divas
Featuring:
Colleen Gleason
Melissa Mayhue
Jennifer Ashley
Sharon Page
Jennifer St. Giles
Want to know how to write romance that brings a mysterious and paranormal twist to history? Romance Divas is hosting a 2-day workshop with some of the hottest names in the Historical Paranormal genre. It will take place at the
Romance Diva Forum
. All are welcome. To get access to the forum you will need to register.
---
Oh, and it's writing discussion day on
Gnattering.com
, where I'm talking about re-writing - "Not just Writering... RE-writering"
----
And finally, this is for

crystaljordan
Yay Crystal! :)