1) A discovery from last night - it is difficult to make unbroken pancakes after half a bottle of champagne. I can make pancakes but they tend to get a bit mangled.
2) There is still time to enter the draw for
a free copy of The Scroll Thief on my website
- I haven't picked a winner yet, so come and have a go.
3) Romance Divas is having a wonderful workshop which starts today.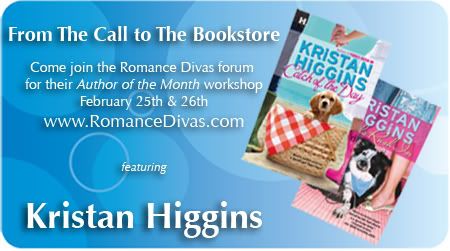 From the Call to the Bookstore


February 25th-26th at Romance Divas


Featuring:

KRISTAN HIGGINS


Want to know what it takes to get from "the call" to the bookstore in New York publishing? Romance Divas is hosting a 2-day workshop with RITA award winning author Kristan Higgins, who can answer that question and many more! It will take place at the Romance Diva Forum. All are welcome. To get access to the forum you will need to register.

Come, join the mayhem.
4) My hand is much improved but is still half red, with a lovely white band on my finger where my wedding ring was!
5) Battlestar Gallactica was good last night. (Yes, I'm rambling now).
6) I think I'm about to start another novel. The plot bunnies have been at me again. There's just no hope anymore.